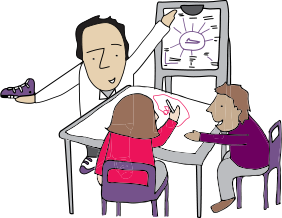 Consultancy and Training for Business
Fun team-building/review/away days using our unique resource kits.
Option to use consultancy and training to enhance CSR volunteering programme.
Creative, Active and Practical
Exciting practical team challenges that build leadership and communication skills
Events that develop and reflect on management skills
Impacting on local school
Run in conjunction with staff and/or pupils from local schools
Helping schools define needs and pin-point solutions

Building effective relationship with a school
Outcomes
Stakeholder designed projects delivered in schools
Potential for effective work experience placements in your business

Staff wellbeing through effective use of their skills and experience
Local community

"The use of improvement planning processes with GE staff was an eye-opener. Working to define the root-cause of a problem has changed our thinking on how we plan to tackle it."
- Assistant Head Teacher
"The 2 hour training session the week before really helped us as volunteers to prepare for the event with children, I think this played a big part in helping it run smoothly"
"I found the activity enjoyable as it got me out of my own comfort zone by dealing with kids of this age group"
- Volunteers from GE