About Us
My Future My Choice was set up in 2009 to address the need identified by businesses and school leaders for practical opportunities for young people to engage with the world outside school.Businesses worked with us to design learning opportunities for use by their employees going into schools.
This created fun and practical ways for young people to explore the skills and knowledge required for working within different industry sectors as well as the importance of knowing how to balance elements of life for success and happiness.
Research funded by the GE Foundation evaluated root-causes of poor attainment and where collaborating with businesses could make the most impact.
Linking interventions tghat raise aspirations to times when transition from one phase of education to another was immanent
Quick and easy icebreakers

Varied practical tasks and challenges that required conversation and different learning styles
Young people working in small teams with a business vounteer

Outcomes that celebrate young people's inginuity and presentation skills

Projects that run annually and reduce workkload for the teachers and volunteers

Our activities reflect economic and social changes along with the school's demand for a fit to their curriculum planning and their desire to meet government objectives such as targets for Gatsby Benchmarks. We continue to create bespoke projects for schools and businesses and work closely with two charities
The Bristol Initiative Charitable Trust
and the
The MV Balmoral Fund
('The People's Liner') a ship moored in Bristol's Historic Harbour.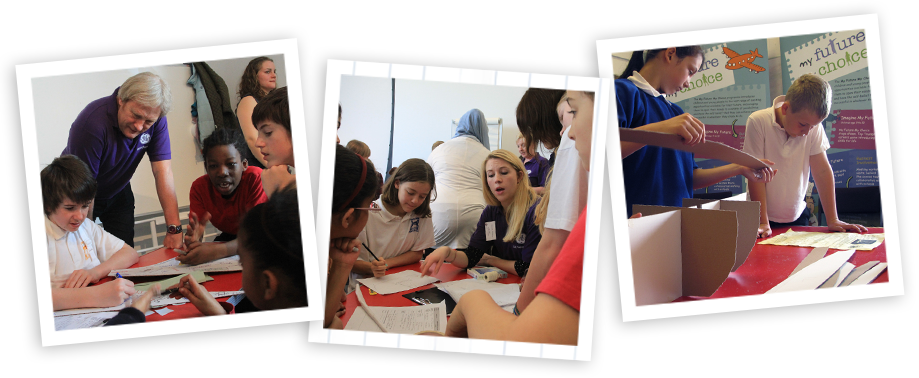 How We Work
Respond to school's requests. Using our networks of businesses and community agencies to recruit a team of trained volunteers who will work with young people on a day or half day activity in or out of school.
Training for teachers to build and maintain business links.
Design and manufacture resources for use by schools and business volunteers. These are generally construction kits, card games, student journals and films with learning activities.