Raising awareness through intergenerational projects across schools and community
Children in schools are using the cards to understand Windrush, migration and understand their global society.
The cards focus on celebrating the positive impact of the Caribbean Windrush Pioneers. This resource is a 'Top Trumps' style card pack illustrating 52 real people. It includes local Bristol characters and national figures. The teacher's guide includes activities that help children understand the activists who were instrumental in forging the UK Race Relations Acts and the younger generations whose work has highlighted recent injustices. There are 13 different industry and community sectors covering five generations in the card pack. These include the 'Future' cards made by 12 year-olds with Caribbean heritage, imagining their future when they leave school.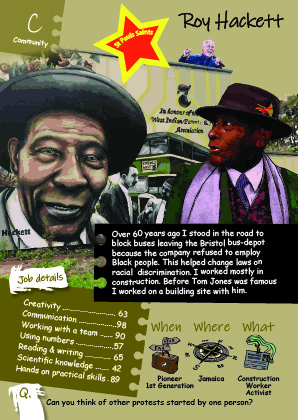 Training and supporting advocates who help claimants access compensation for the 'Windrush Scandal'.
This project supports people from all transnational communities with compensation claims.
It has resulted in activity in Bristol, Bath, and Birmingham and aims to maintain support until the injustice of this scandal has been corrected.
We are keen to hear from more people who can offer support and from people who think they are entitled to compensation.