So How Many Different Types of Engineers Can You List?
Added 4th November 2013
'So how many different types of engineers can you list?'
Polly Barnes, My Future My Choice Primary Consultant, posed this question to groups of delegates at the recent Conference of Bath and North East Somerset, Bristol, South Gloucestershire Assistant/ Deputy Head teachers. An engaging but tough challenge… Try it for yourself before you read on.
Top of the all lists came Mechanical Engineer – "When you think of the word 'engineer' you associate it with the word 'engine'" said one Assistant Head. Most came up with Civil Engineer and Computer Engineer. And the groups with members who had previously worked in industry came up with the longest lists.
The prototype My Future My Choice Engineers card game offered some salvation. An Assistant Head Teacher played and listed 'Food engineer, Pharmaceutical Engineer, Marine Engineer, Teleportation engineer – Teleportation Engineer do these exist yet?'
Polly explained that the teleportation engineer is one of the 'future' pupil designed cards and with that began a lively discussion about the types of engineering jobs. She described how the original My Future My Choice Game is often taken into schools by business volunteers and used as activity to generate discussions around the skills the young people might need in their future work life.
'Yes this is just what we need – engineers coming into schools and playing cards with the children. A lot of discussion and learning will take place – and not for just the pupils'.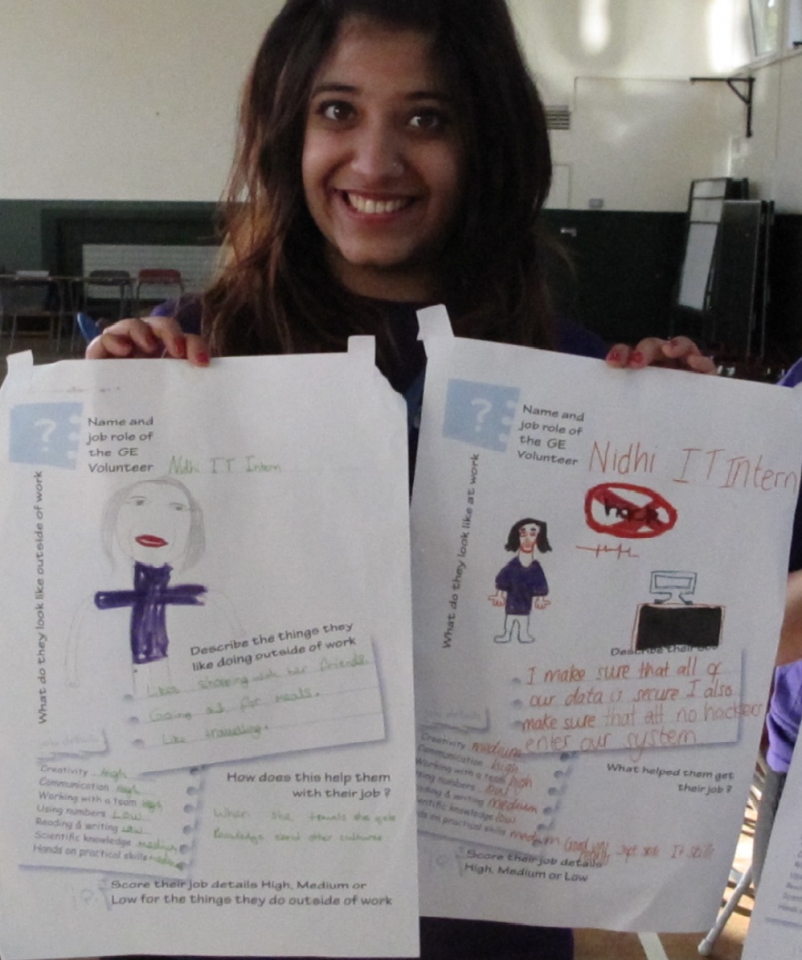 A GE Engineer Intern shows her Top Trumps Card made by pupils

Schools can buy directly into My Future My Choice resources or contact Polly to discuss accessing business support and sponsorship to create a 'Future Opportunities' activity.
Finding Root Causes
The Deputy Heads discussed root causes for girls lack of interest in science and engineering.
Could this be in part be a gender issue? Women make up 88% of Primary School teachers(1) and in contrast only 6% of the engineering workforce in the UK is female (2). Most delegates and in particular the female delegates identified engineering as an area where they really wanted to increase their awareness and understanding. But they recognised that they needed support.
'Primary school should be the place where we can establish and widen the children's horizons.' Commented a Deputy Head.
A recent report investigating into why the UK has the lowest proportion of female engineers in the EU stated that 'Girls are effectively ruling themselves out of a degree in engineering by the age of 14' as its first finding (3).
Could it be the power of language. Girls associating the word engineer with the word engine and seeing it as an uncreative activity? In France, the word for engineer "ingénieur" comes from "ingenuity", not engine. Although the number of women in engineering in France (17%) is nowhere near the population gender split it is significantly higher than the number in the UK(4).
1. GTC Statistical digest 2011
2. Royal Academy of Engineering analysis of the Labour Force Survey, 2004-10, quoted in Diversity Data, RAEng, 2012
3. An investigation into why the UK has the lowest proportion of female engineers in the EU.A summary of the key issues Louisa Kiwana, Dr. Anil Kumar & Neil Randerson – EngineeringUK April 2011
4. Engineers: an inter-country comparison Report of a May 2010 survey of engineers in France, Germany and the UK Prepared by The Engineering Council December 2010