Ingenious Project test event - May 17th -19th M Shed Museum Bristol
Added 19th May 2012
This pilot event consisted of a range of 40 minute workshops in the M Shed learning studios and a market stall style environment running through the galleries to link exhibits to live engineers. Schools signed up for a 2.5 hour session or were visiting the museum and got involved. On the Saturday the public could access the stalls with the engineers and could book for a workshop on flight that ran four times throughout the day. The learning went both ways as most of the engineers were not trained presenters.
M Shed Museum is surrounded by Bristol's engineering heritage. Matt Tosh one of the Ingenious project volunteers engaged young people in this exciting stimulus. He linked machinery, vehicles and the dockland environment to principles of engineering and the range of related jobs.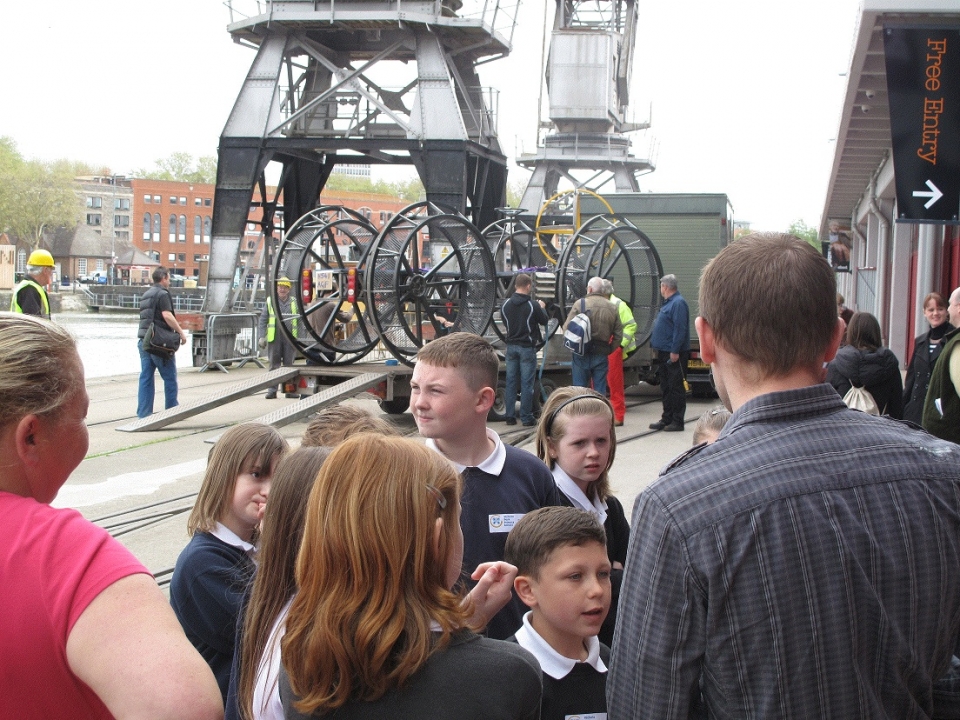 Part of Claverham's businesses is to make hydraulic systems for aircraft and helicopters. Phil Rowles, a Hydraulic engineer ran four workshops each day. He amazed participants with readily available materials to reveal how hydraulic systems work.
Getting young people to work as a team to simulate the computer that controls a hydraulic system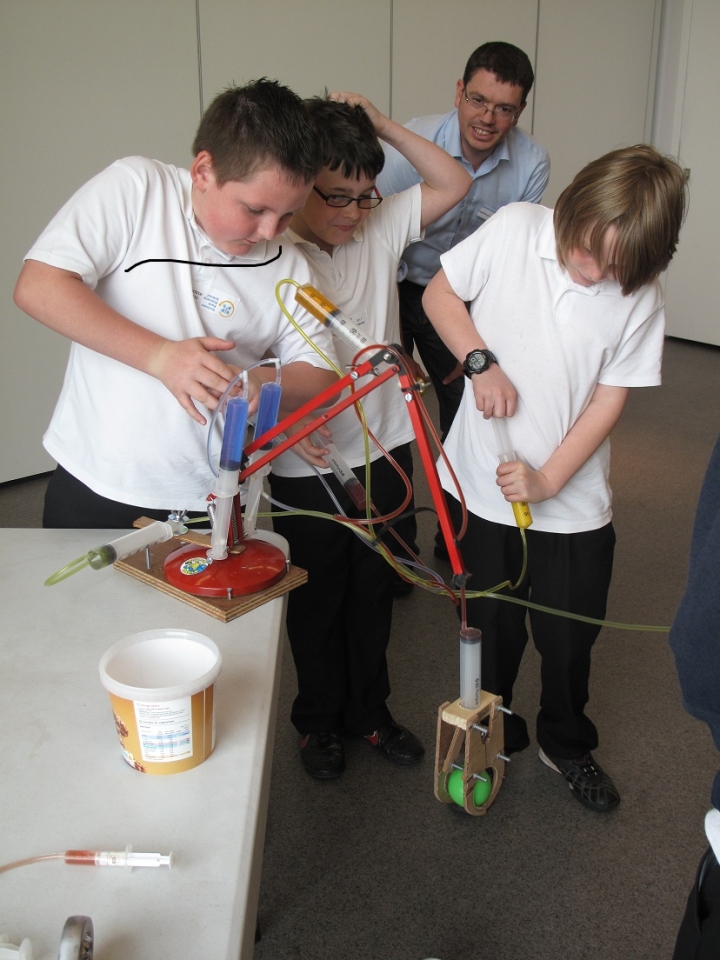 It works to engage all ages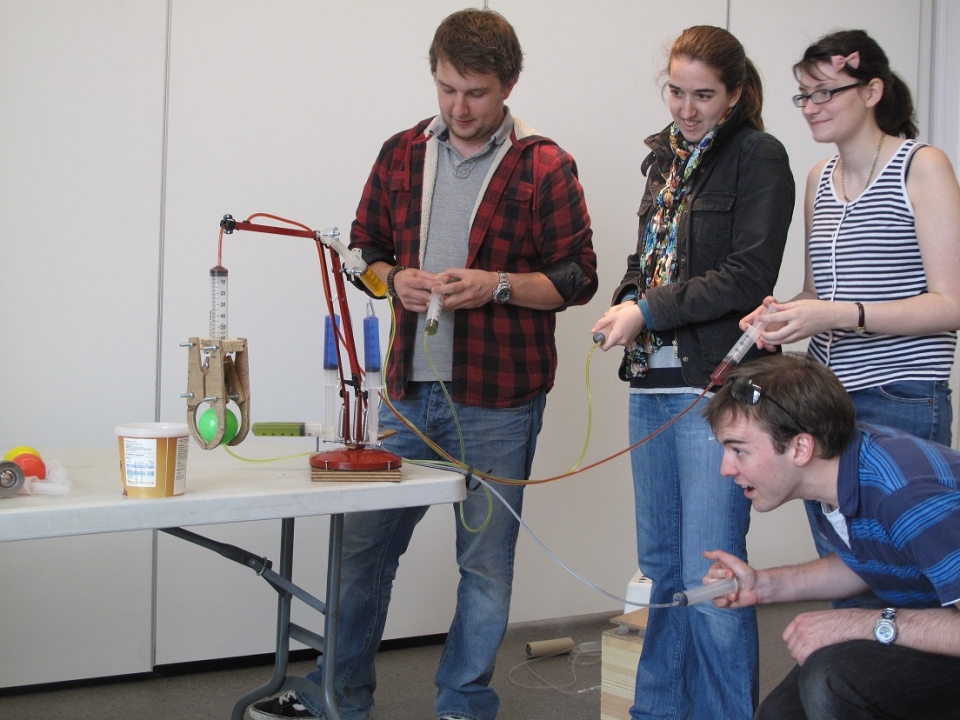 and families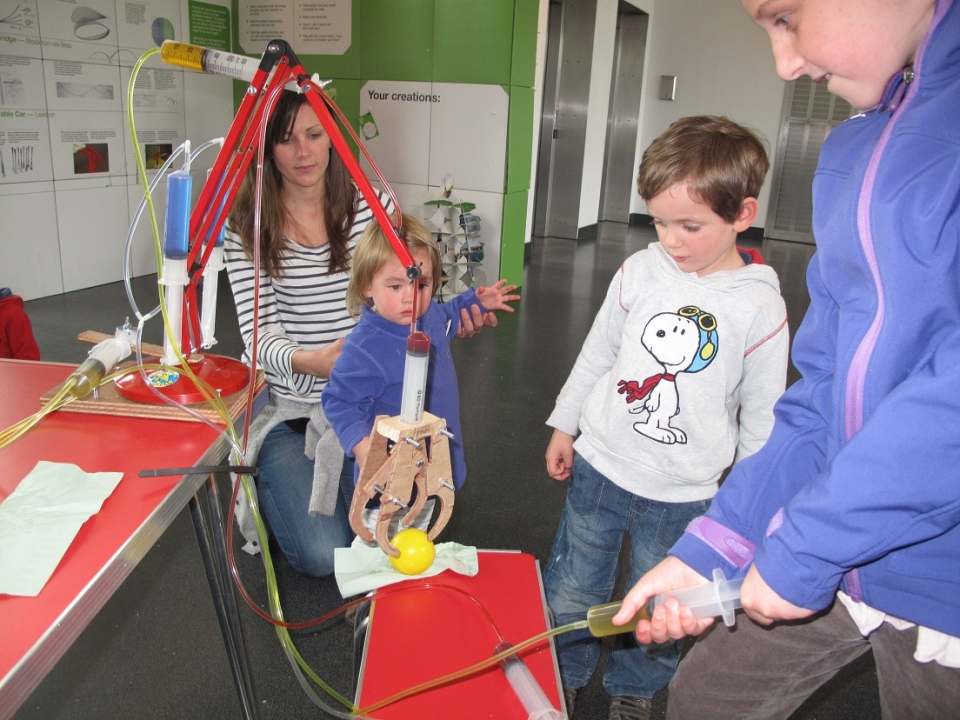 Bernard North works for Claverham as an engineer. He is also a member of the Society of Model Engineers which wants to engage young people in engineering. The Ingenious project provided the perfect test bed to see how they work best with schools and the public. Bernard used working models of steam engines and a full range of the materials to engage and explain the functions of a steam engine and the processes and materials needed to make one.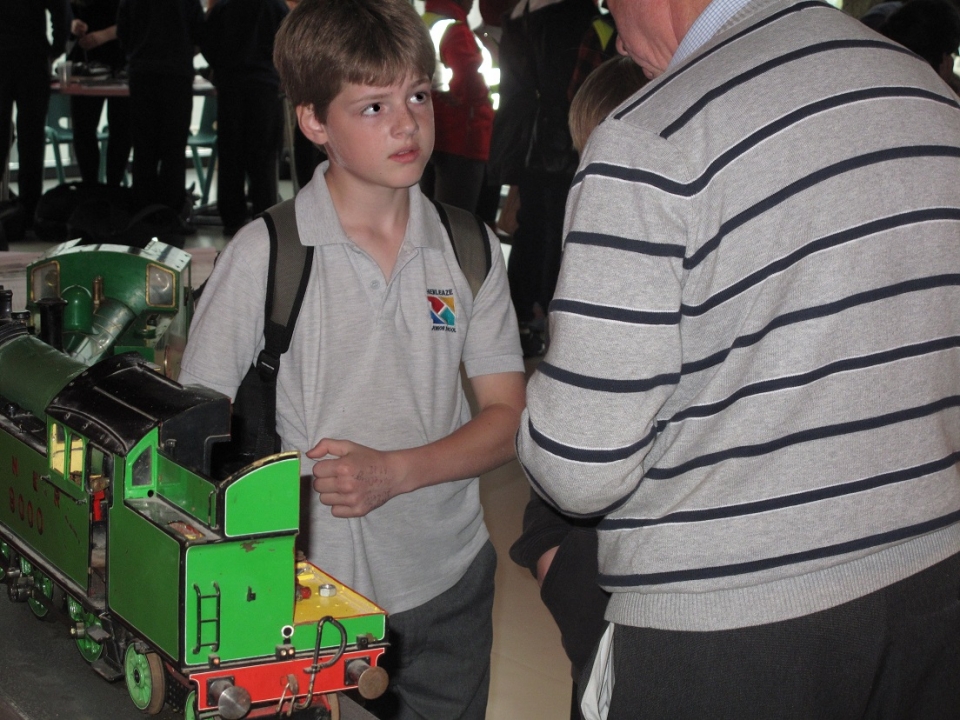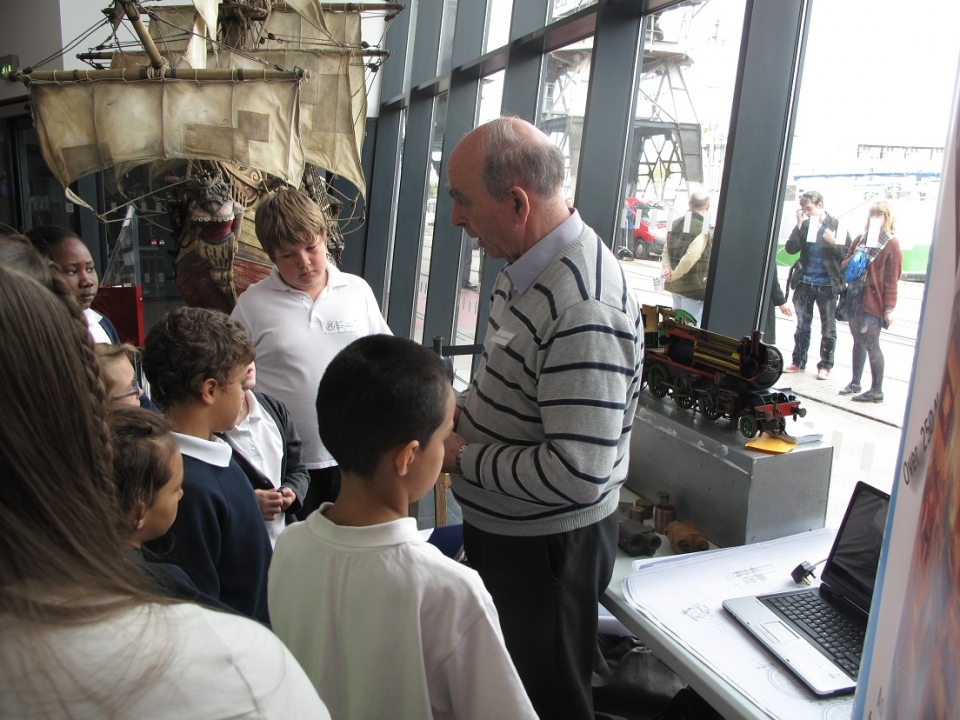 The project devised an Engineering-Jobs Top-Trumps card game. Engineers rewarded children with cards for asking questions or feeding back learning. This approach was used to encourage interaction around the key messages for very diverse exhibits and activities. Exhibitors and workshop leaders had sent in their ideas for the cards based on their actual jobs. These were combined to make 40 different engineering characters. Some of the cards were 'Ancestral Engineers' or 'Future Engineers' so children found themselves playing Top Trumps with characters like Blacksmith or Tele-Portation Engineer. It appeared to be successful with children returning on Saturday to try and complete their set of cards. There is a need for some reworking of the content. It was most successful when an engineer felt the cards they distributed represented them and people they interacted with in their job.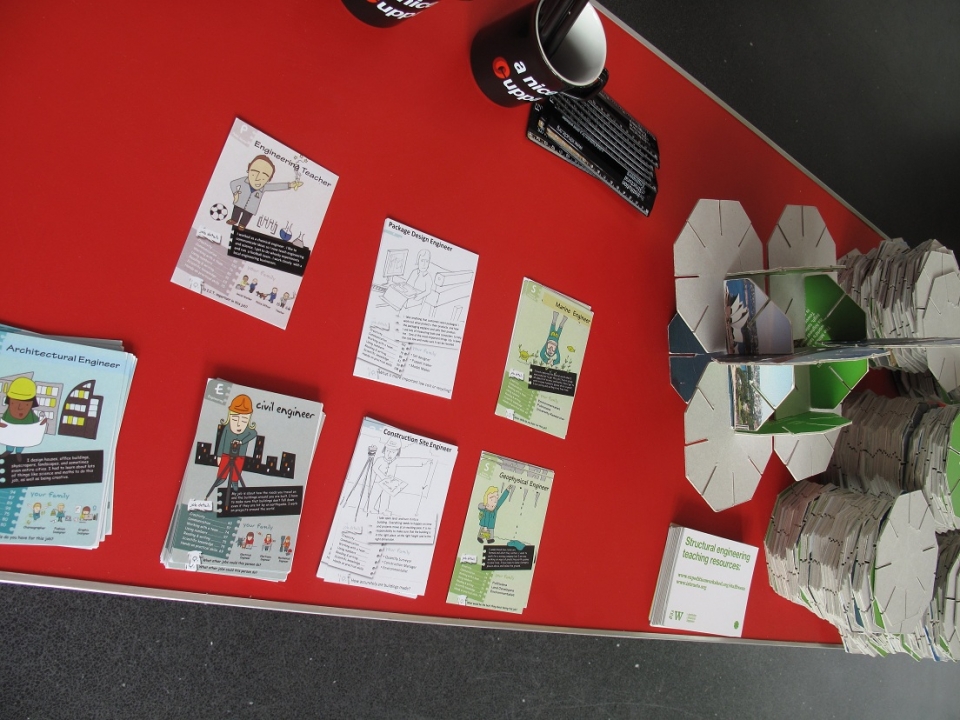 David Oyns from the Arkwright Scholarship Trust ran four workshops a day on understanding flight. He explored this in active workshops using traditional tools used by the earliest pioneers of flight as well as modern principles relying on computer technology. He was assisted by engineers from Rolls-Royce who provided the relevant role model to link the workshop directly to the world of work.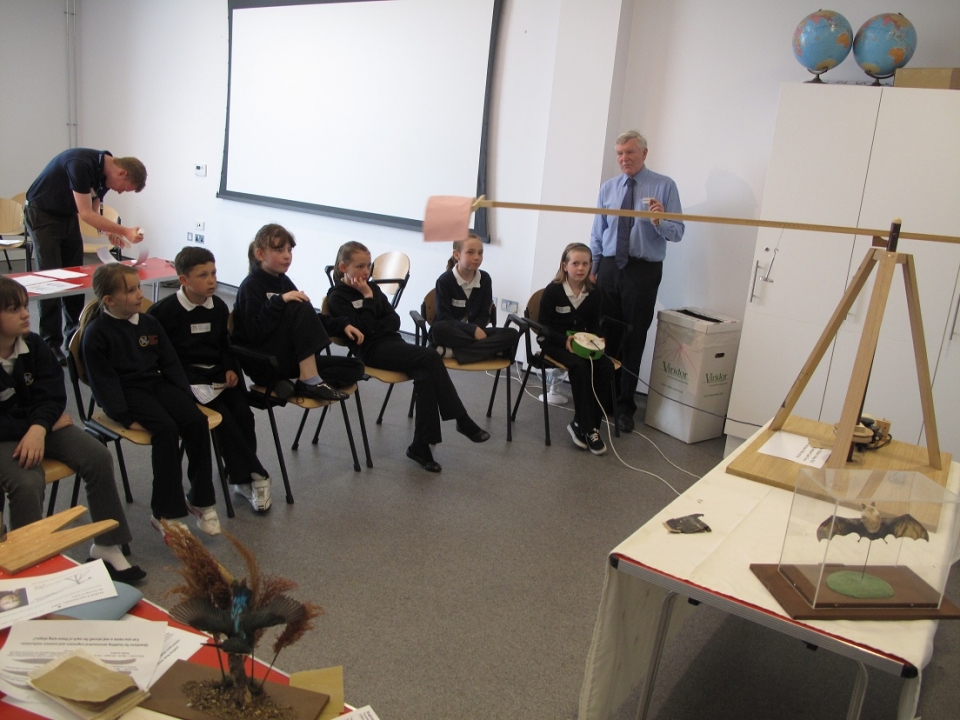 Mark Hazzard, Rolls-Royce Engineer plays his Top Trumps cards carefully. Getting youngsters to reflect on the differences between engineers such as Aero-Nautical, Aviation, Mechanical, Systems, Electronic and Electrical.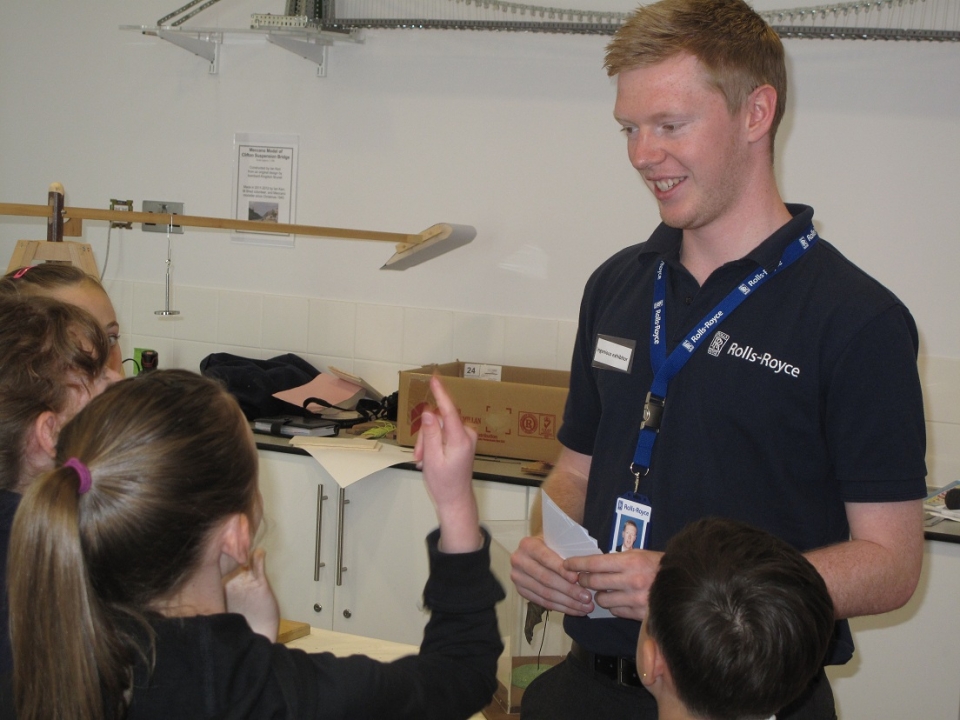 Rebecca Prior, a model making engineer ran a series of automaton workshops showing how cams, cogs and and wheels function.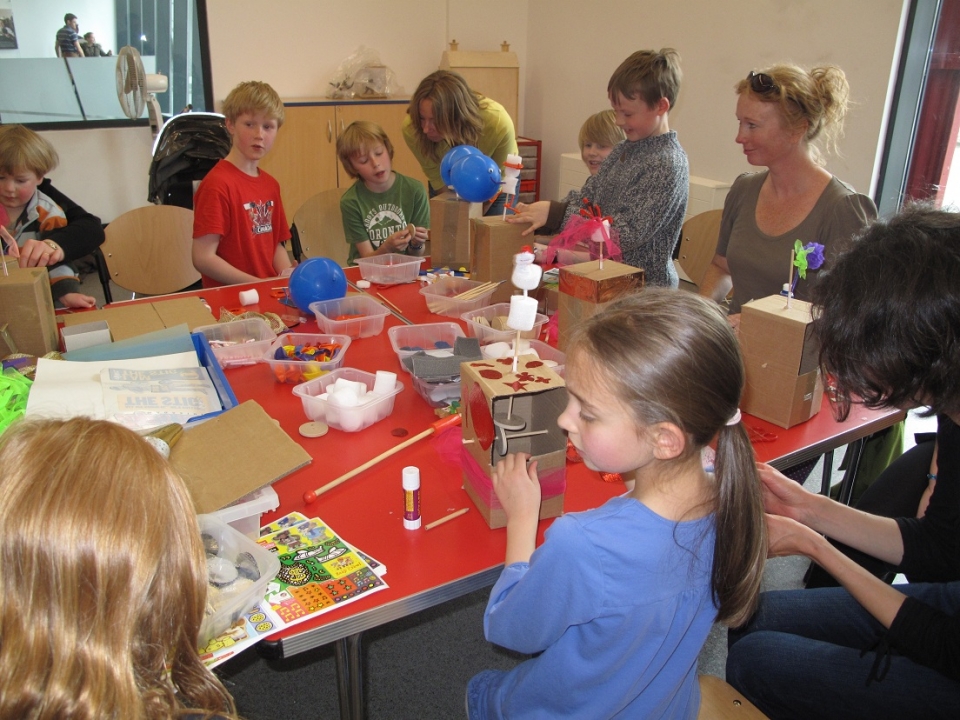 Dyson provided some kit and screwdrivers and trainee primary teachers Chloe Gorringe and Sakara Foot ran short workshops that engaged children in handling, dismantling and assembling design features of the Dyson Vacuum Cleaner.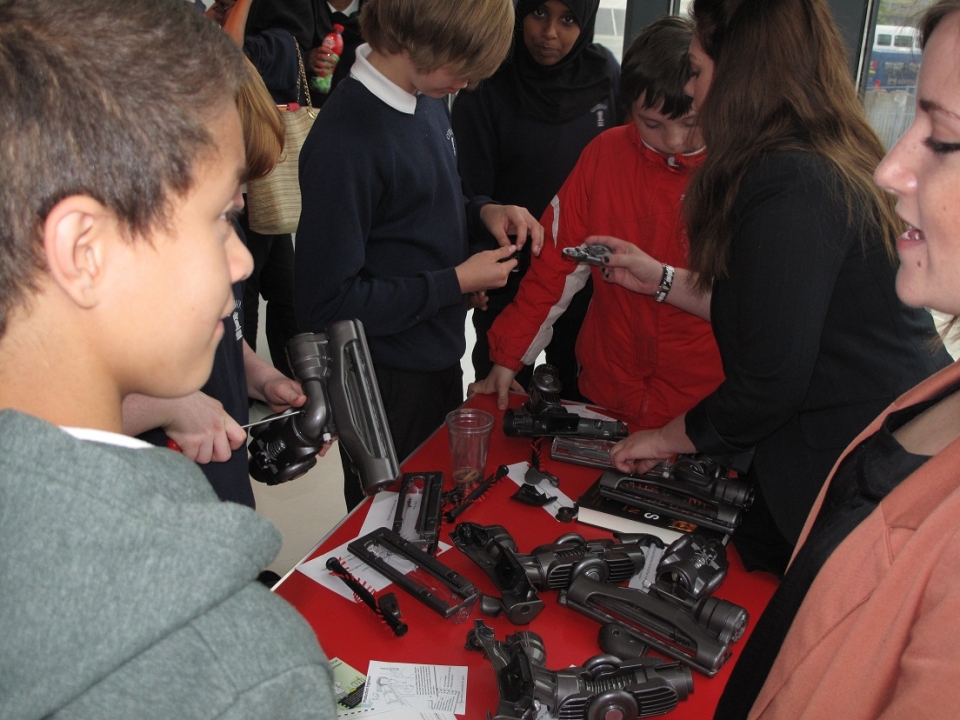 Ben Meller works at the museum and is building a skate board ramp outside M Shed for an Olympic themed show. The demonstration of how gravity works in time and space which was provided by Deep Space Engineers from SEA captured his imagination as well as the visitors and created endless discussion on how planets and satellites orbit a star.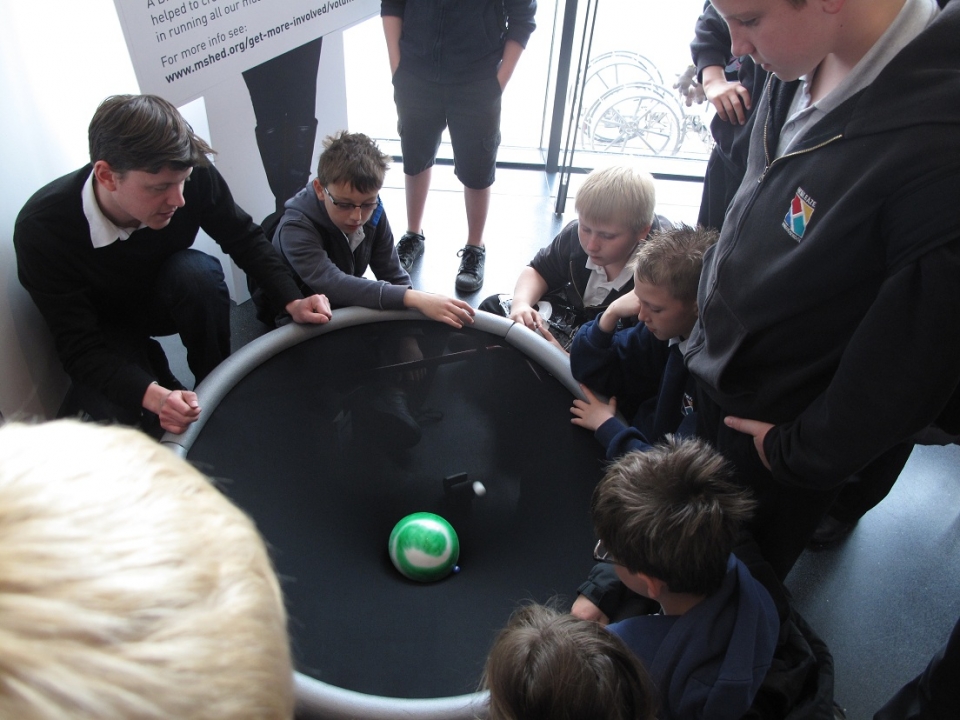 Andrew Bacon, Space Engineer from SEA who devised the demonstration of gravity to show how satellites stay up engages young people in designs for the skate ramps.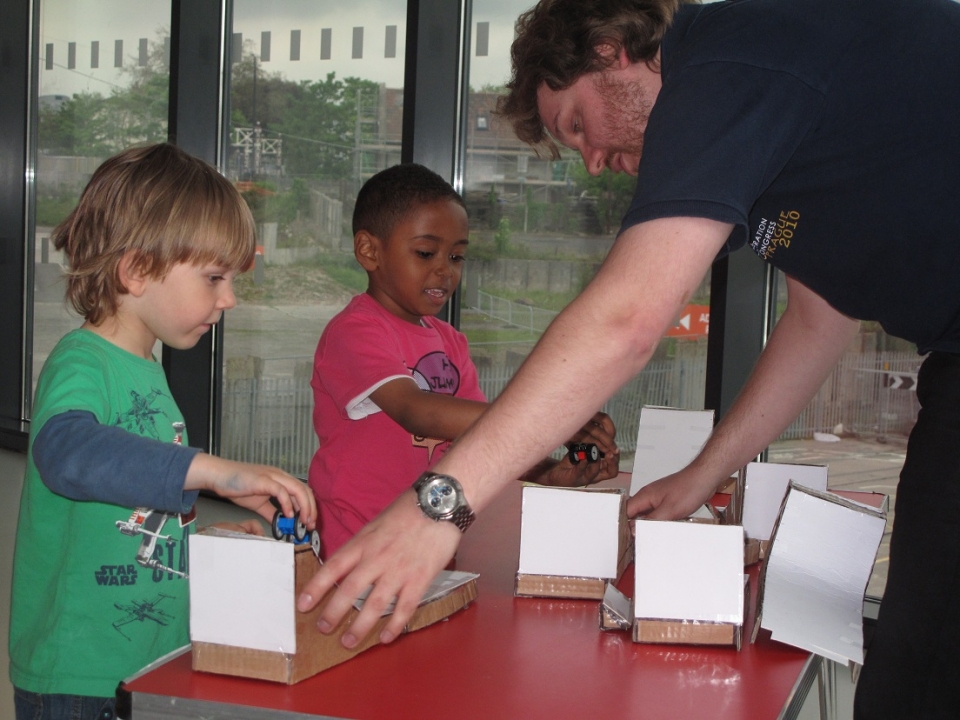 Helen Featherstone from UWE uses the principles of knitting, knotting and weaving to get participants to think about the role of textiles engineers, either as a traditional craft or as an industrial process. Her project brings home the importance of hand skills in the process of making and devising. Continuous Loop Project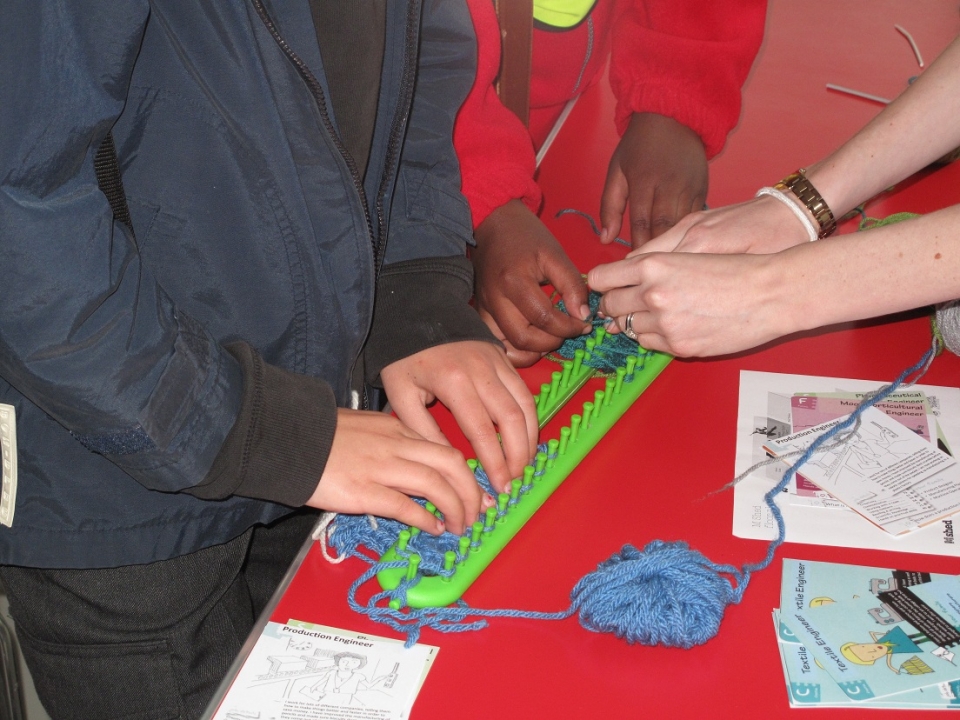 The Institution Of Structural Engineers ran three days of building using a card modular system.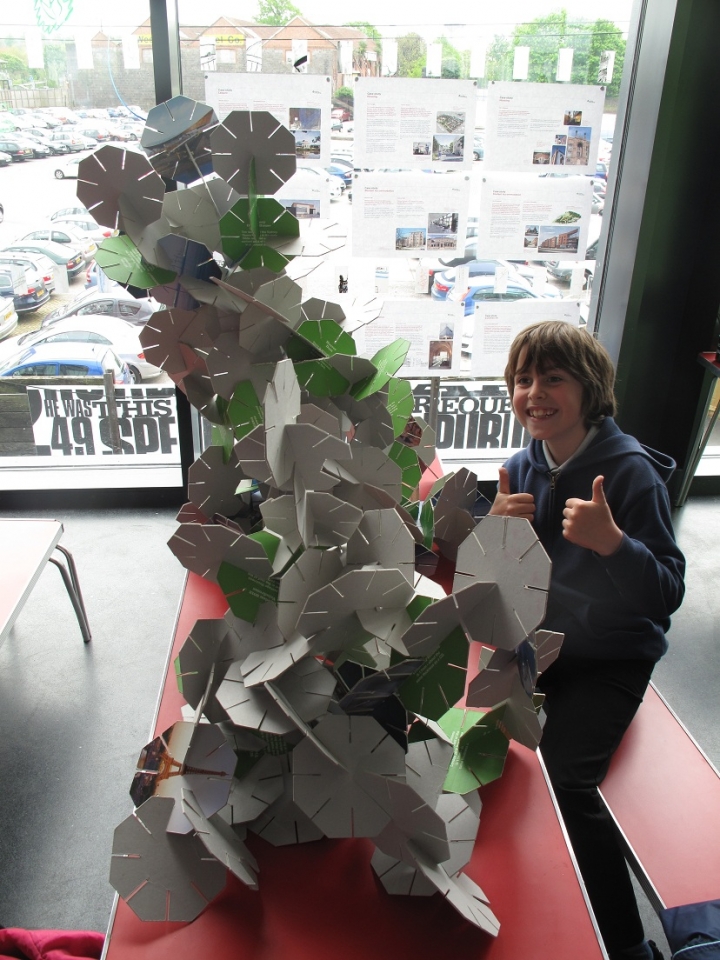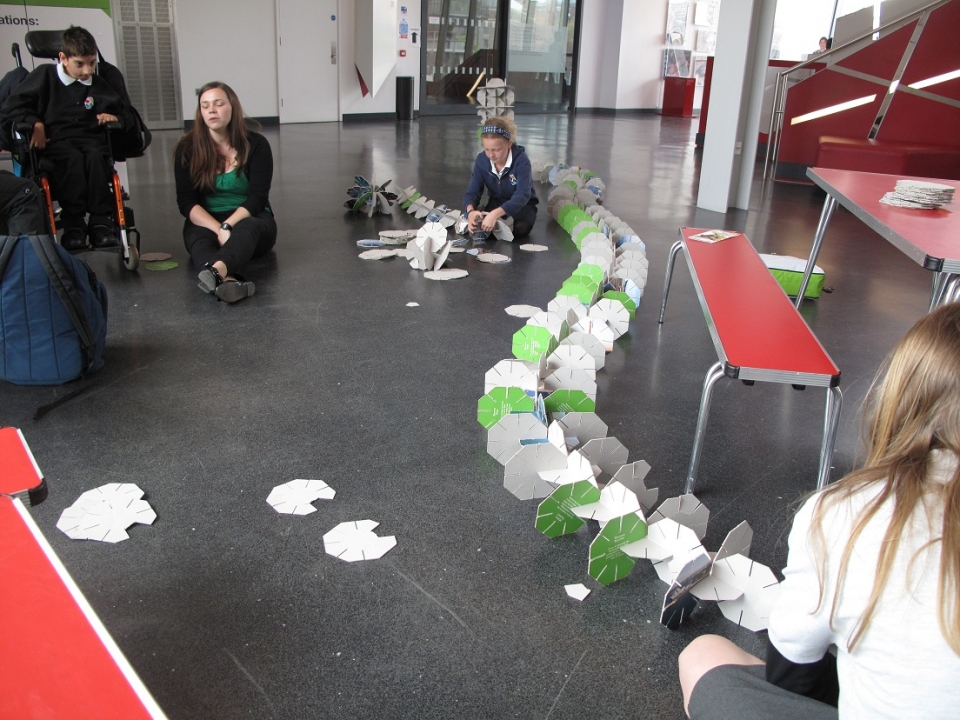 Sam another Deep Space engineer from SEA makes rockets -no Engineering Fair is complete without a rocket!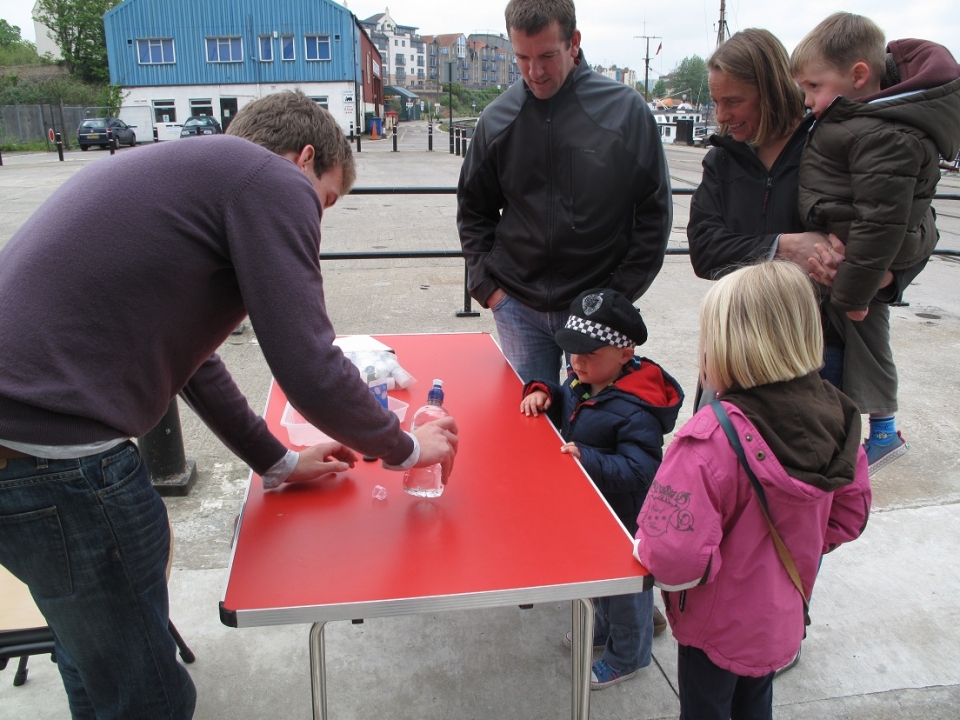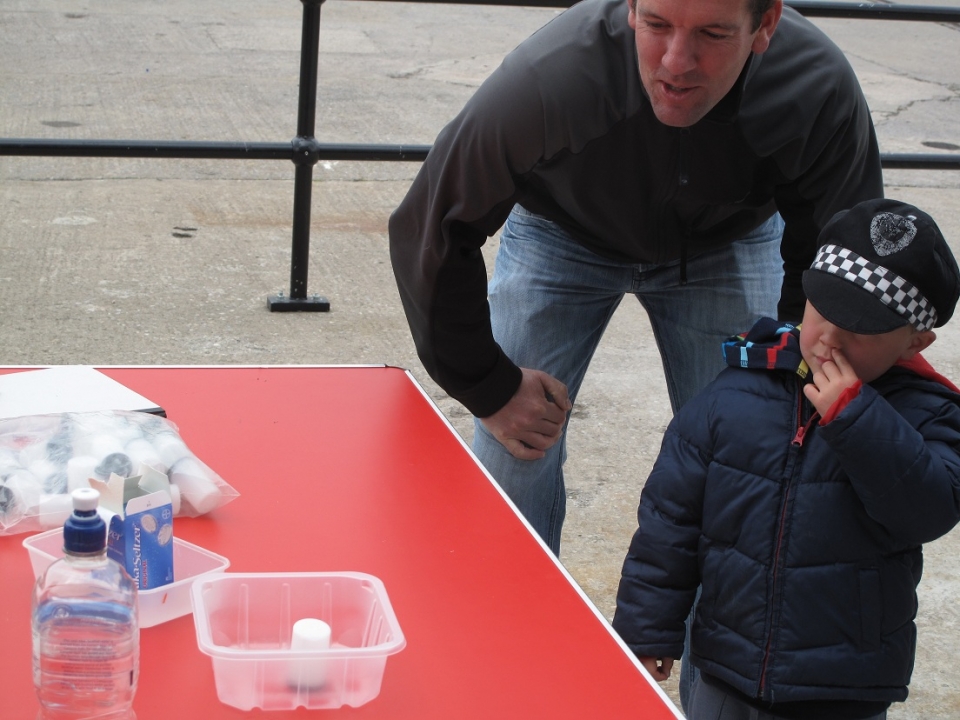 170 school children were booked onto workshops and circa 3600 museum visitors came around the exhibition over the three days
This test event will lead to a comprehensive programme of workshops and a themed display for the museum on the
12th, 13th and 14th July
and
19th October
Schools and public can book workshops and join in the M Shed Engineering Jobs Top Trumps game.
Some of the stands will be open to all Museum visitors.
To find out more contact hugh@myfuturemychoice.co.uk
Evaluations from the children, teachers, parents and volunteers taking part will follow.