A Notion of Shopkeepers
Added 11th May 2020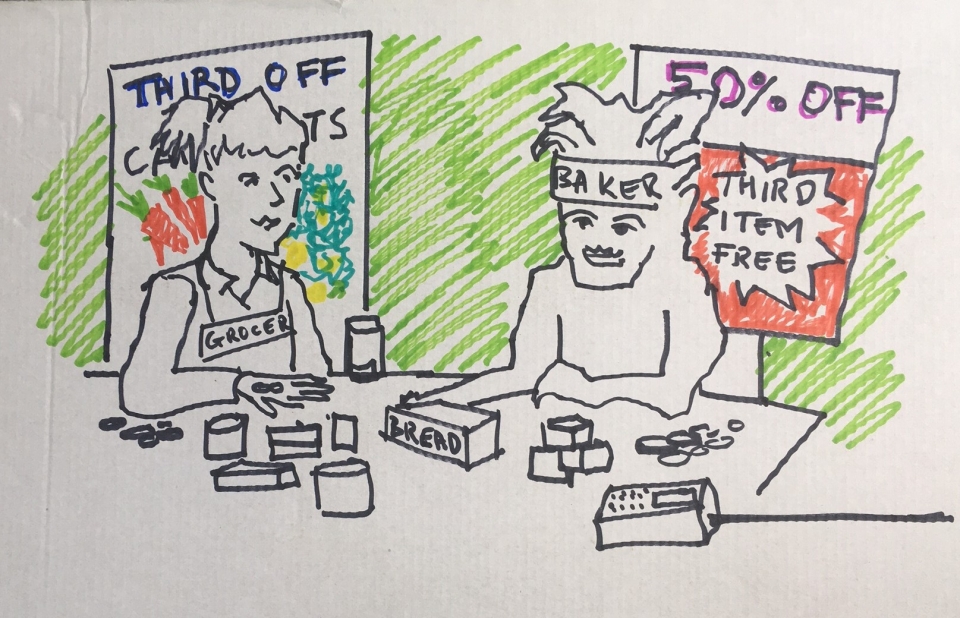 The pleasure and the learning that can be derived from children of mixed ages playing 'Shopkeeper' makes it ideal for home learning and one that can be returned to and refined. They can learn about the value of money, money as a form of exchange, choices about spending, being a savvy consumer, needs and wants and budgeting.
In this week's blog I will suggest ideas to maximise the benefits of playing shops. Everything you need you should be able to source at home. If you have a pot of coins they can be put to good use. If not, small carboard boxes can be used to make a phone and card reader. Invention and make-believe is key and mixed ages of children will play for hours in this way. Similarly, one child will be quickly absorbed-with a little timely adult interaction.
Setting up shop
Make a headband or badge headlining the shopkeeper's role. Use a strip of paper/card from a cereal box). Maybe a baker or zero waste merchant - whatever they choose.
Challenge all to list as many different types of shops as they can- make it fast and fun.
Raid the kitchen cabinets to create stock for a food shop or simply draw and label items for a more creative and ambitious store.
Older children can consider a more elaborate set-up, planning their ideal shop. Talk to them about ways in which customers are persuaded by deals. Use this as an opportunity to discuss options like 'Buy one get one half price' or 'new in' and the way in which these can manipulate a potential buyer's perceptions. Interesting conversations around ethics will arise which, in turn, should impact on your child's financial decision-making in the future. How would a bartering system work without money and what are the pitfalls for this type of system?
Customer care
Why do your children prefer some shops to others? Will their shop focus on providing cheap goods or those with greater quality and sustainability? Organic and fairtrade? Can you or should you develop a loyalty scheme and, if so, what will you entice your regular customers with? Ramp up the maths with exciting offers with two for 1 or 50% off depending the stage your child is working at.
Your child/children will determine the next steps in their learning and through listening to the play they are engaging with and chatting with them you'll find the next stage of being a shopkeeper which will inspire them.
Will visiting a shop become a thing of our children's past? Whether we're heading for an online shopping future or one where local independent shops thrive, encouraging young people to think about the 'What, Why and How' of purchasing, by playing shopkeepers is a solid way of developing financial literacy.