Resources in Action - Family worksheet
Added 16th September 2011
Family Worksheet
Developed as part of a government Key Stage 2 Pathfinder Programme to improve children's and parent's awareness of the world of work before entry into secondary school. This simple document can have a profound impact on both family and school -
This is a resource to establish a bench mark for children's aspirations in school as well as a means to engage parents and carers in evaluating the context for their aspiration and a communities hopes and fears about the future. Teachers see it as a useful tool for Self Evaluation of the community context for their school.
We found it was no good sending a school style letter home. It just didn't work to use the normal functions of 'letter home'.
We devised a lesson for Year 5 or Year 6 about journalists, market researchers and good speaking and listening. In some schools we got real journalists or market researchers to come into the classroom and talk about how they did their job. These lesson plans are available in full in the My Future My Choice folder. see ASDAN STORE for details via this link.
Each child was given a sealed envelope and a clear idea about their assignment and they went home equipped to gather information. This model of market research has been used by Fire & Rescue Services. 'Young Fire Fighters' go home from school and report on smoke alarms in their home . If they have too few alarms the 'Young Fire Fighter' can collect one from the Fire Officer (who comes into school in a Fire Engine) and take it home. Fire & Rescue Services report a reduction of call outs relative to the smoke alarms requested.
Our 'Young Researchers' had not seen the questions in schools. Sealed envelopes went home with the instructions for them to be opened at home. Children where suitable pleased with the idea that they had a job not a homework and that they had new skills to try out for talking to others.
It was essential that the form was colorful and engaging with a page each for the child and two adults.We have tested the return rates to a black and white form with no images except the school logo and over a third where not returned.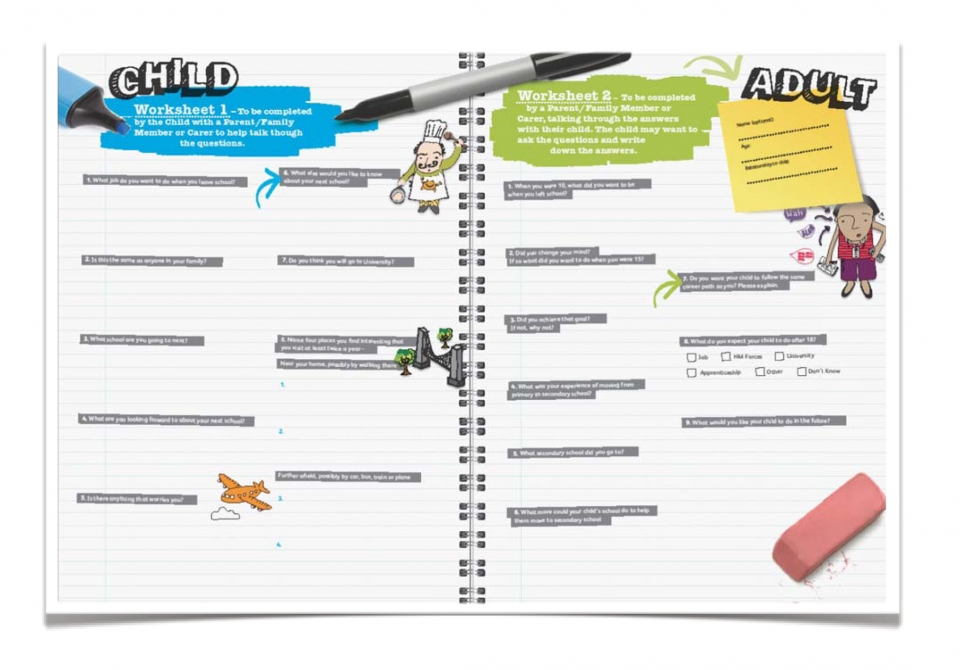 We had 100% returns for these full colour forms from 6 schools. In the first instance our consultants felt the need to gather and collate the data but it soon became clear that this was best done direct by the school as the they knew the questions they wanted to ask of their returned forms.
Schools had different focuses.
One school for example wanted to know how many children and parents had aspired to jobs in uniform? This benchmark proved critical to,measuring success in this school with a 90% shift for children initially aspiring to jobs in the army or police. One boy said to a volunteer from ISG Pearce (Construction Project Management

Company

), " this is an inspiration, I don't have to go in the army". This boy had until this intervention had seen the army as his future and his "escape"and this view was endorsed by family (via the survey). His new escape was to be, " like Graham the Quantity Surveyor" and "get a car with a mountain bike on the roof as well".

Another school looked at parents feelings about their early aspirations and goals and if starting a family young had thwarted their ambitions.

All schools reported on their new knowledge about how many families had been to University

Several schools were surprised at the articulate responses and that children had two adults in their home! Several teachers admitted to assumptions about the community and greater understanding of parents that they could use when they next greet them in school.

Several schools used the data to invite parents in to 'My Future' Clubs . An after school club for Year 6 children to meet people with different life experiences.polly@myfuturemychoice.co.uk

Other questions that schools asked of these returned forms included - Number of children who want to be famous? Number of children wanting to go into beauty related careers? Number of adults who didn't achieve their goals or, drilling even more precisely -didn't achieve their goals because of starting a family?
Click on the links to see examples of typical family responses to the survey
The response to the worksheet by parents who where surveyed 8 months after the start of the programme showed that the action had been memorable.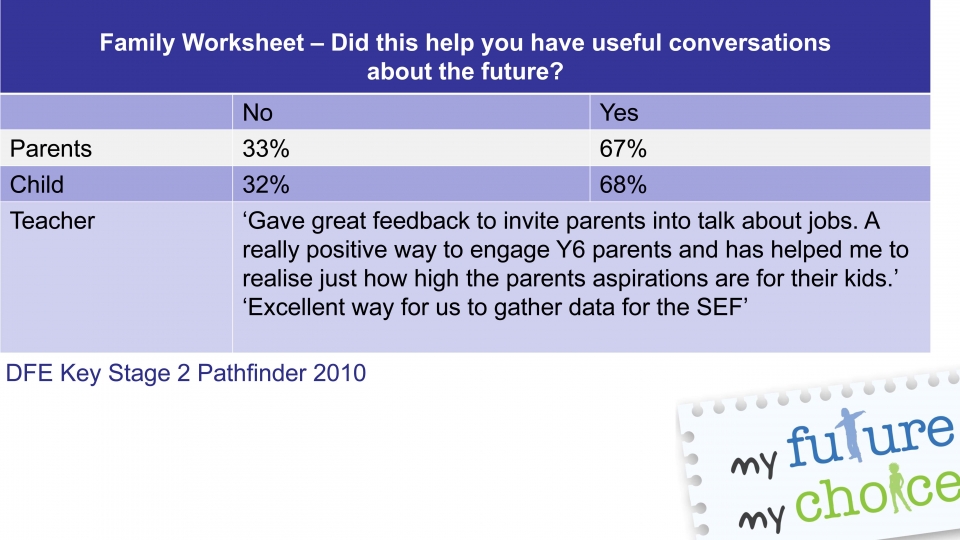 For more information on all Primary School Resources and the Explore Transition Programme contact polly